Photos monitoring, multimedia files, and all the other control is in your hands after the downloading of XySpy. Terrorist activities can easily be caught, and the security in the border area and other regions are increased which is the greatest contribution of the Android spy app for the protection of the country and its citizens.
Detectives fetch the data just by sitting in their office or home. The features are the basic thing that attracts the consumers, and you can promote your app by adding more innovative and extraordinary features in it. Many features are present in the mobile after owning this Android Spy. XySpy is extensively used by the detective officers, professional detectors, police officers, banks, business managers, soldiers, army officers, border security forces, and much more.
By the above line, you can easily imagine that how wide is the scope of spy app. Mostly all the features you are looking for is present in the TheTruthSpy app. Secondly, while getting mobile spy app, you must look that whether the application is compatible with the devices you using or not. The application you choose must be working on the smartphones, mobiles, etc.
How to install spyware on Android Remotely
TheTruthSpy software not only gives you features to spy text but also you are allowed to see the live activity of the targeted person. The GPS tracking system offered so that you can see the live activity of your spouse using your android mobile. Live activity means here to see the location of the targeted person on the map. You needed a good network and internet connection for GPS tracking the targeted mobile phone. Also in this way you can know how many weeks your spouse been on work and how many days he or she been fooling you. The features help to monitor SMS you can know about the targeted phone conversation with another person, and read other messages coming in their mobile like company messages, bank messages, etc.
The mobile spy app helps you monitor the targeted phone call activity. The call activity like who is your spouse been talking and for how much duration he is involved in the conversation can be monitored by you. In the app after login, you get to see the call activity of the targeted person. Using your Smartphone, you will be able to do all this activity with the help of this app. The call recording is saved automatically from the targeted person cell phone and uploaded to your account.
When you log into your account, you can listen to the call recording. In this manner, if you are unavailable to monitor then automatically the app will ease your work and won't let you miss the conversation. The phone spy software has features for ambient voice recording. This feature helps you hear the surrounding voice area. The recorded content uploaded in mobile which you can listen as well as download. These days people use the WhatsApp more than normal SMS because of its feature allowing you to share content like photos and videos.
The mobile spy app helps you monitor WhatsApp activities. You can view the messages, archives, spam messages of the targeted cell phone and save it. You can view shared media files on WhatsApp and deleted conversation as well.
To spy WhatsApp, you must be connected to the internet otherwise you won't be able to monitor. TheTruthSpy lets you view all the Facebook chat conversations that take place through the target phone.
Access all your phone data from your computer
TheTruthSpy lets you view all the SnapChat chat conversations that take place through the target phone. View the history of websites visited from devices. Block what websites you do not want target users to visit. Captures all what target users typed on target devices so can know password of facebook for example.
TheTruthSpy will let you all contacts address books including telephone numbers stored on mobile devices. TheTruthSpy provides you an online control panel that you can access from anywhere with an internet connection. Your kids or Employees cannot know if there is TheTruthSpy installed on their devices.
How To Install Flexispy Without the Target Device
The Android spy software available helps you to spy on the social media sites your family member or spouse use like the snap chat, Facebook or Instagram. You can spytxt messages and conversation taking place on social platforms of the targeted cell phone. Also in this way you can see the whether the targeted cell phone is used for a good purpose or not. It is your time unrevealing the truth is hidden behind the changed behavior of your spouse. Catch him cheat you through his mobile using spytext software and application. Become a true spy and do spying activities using the mobile spy app. If the suspect uses WhatsApp to share confidential information, then you can catch their cheats through the cell phone spy.
XPSpy lets you spy on the Facebook chat conversations that take place through the target phone. XPSpy lets you spy on the SnapChat chat conversations that take place through the target phone. View all URLs visited by the user in cell phone browser. View Photo, Video on Target Device. This mobile surveillance software enables you to see any photos and videos that have been saved on the target phone. Every time your child or employee records a video or takes a photo with their camera phone, it will be immediately uploaded to your XPSpy account. Captures all what target users typed on target devices so can know password of facebook for example.
View the Screen, Instant Location. Your kids cannot know if there is XPSpy installed on their devices. Instead of SMS or calling services, currently the social media networking sites are most common among cell phone users. Also, different social media sites provide different features, but some common services are sharing media files, text posts, live status, instant messaging and much more.
So, it becomes the easiest way to share any confidential information or perform real-time conversation. XPSpy offers their users to get conversation details accept digital files and track the suspect. Due to free internet services, free social media use, low-cost cell phone and else, spouse cheating activities are increasing. With the help of XPSpy, you can easily catch a cheating spouse, and you can perform necessary steps against life partner.
Children are more prone to use medial social sites or use unwanted sites on the internet. Parents are conscious to know kids cell phone activities and prevent them from performing any cybercriminal activities. In that case, XPSpy is best to monitor them. You can perform phone spy and know their cell phone activities.
Features of Spy App For iPhone and Android
At most of the time, business partner or business employee leaks confidential information with business competitors. Employee wants to earn more profit. Therefore, they share some confidential information or perform unwanted activities. The XPSpy delivers employee monitoring features that you can catch their each cell phone activity.
cell phone tracking app for android.
cell phone spying devices south africa!
Spy Phone App - apk download.
Installation Guide.
mobile tracker for nokia 8;
Extracting Data: The application will extract data from the device on a regular basis. Home XPSpy for Android. See the terms and conditions. Follow step-to-step below. Enable unknown sources. Step 1: Open Settings. Step 2: Choose Security. Step 3: Check the box Unknown sources. Accept the warning by clicking OK. Step 1: Open Play Store. Step 2: Choose Play Protect.
berpflutmamiltio.gq
The All in One Android Monitoring Solutions
Step 3: Uncheck Scan device for security threats. You can see XPSpy.
Spy on Cell Phone Without Installing Software on Target Phone?
cell phone monitors?
Salient Features.
Click XPSpy.
Instal spy aplication android
Instal spy aplication android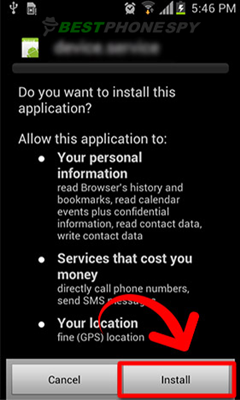 Instal spy aplication android
Instal spy aplication android
Instal spy aplication android
Instal spy aplication android
Instal spy aplication android
Instal spy aplication android
Instal spy aplication android
---
Copyright 2019 - All Right Reserved
---