Moreover, you want to know what kind of pictures are being stored in their Gallery? Are you willing to do all these things remotely, with no device at hands, without even touching it? To catch a cheater, you need to set up spyware on his device. You can do it without touching it, provided you know the iCloud credentials and it is enabled on the target device. Once the installation is done, you log in to your online account created during your registration within the service and start tracking text messages, emails, chats, calls, GPS location, etc.
These are text messages that are the most insightful. The setup process will take a little bit more time. After that, you can read text messages and view many other things from the Control Panel as it was previously mentioned for an iPhone. You already have the app installed on the target device? Start reading text messages! Now I have proof.
Cheating spouse tracker can help you and definitely provide the information to conclude on infidelity or not.
Users get the whereabouts of a cheating spouse with a precise address and the time of the last visit. Speaking of movements during the day, the app logs the route history. This could be extremely insightful, huh? Suppose you need to find out where your cheating spouse right now.
But still, you want to check. So, you log in to your online account created for you by the program and stumble upon the Control Panel.
It is a dashboard with the list of features available for monitoring at your left. Then you click it and get all the details about that place. At present, you have plenty of ways to catch a cheater and find out if your significant other lies, cheats, or keeps their vows till death do you apart. These could be dating apps as well. Usually, a cheating spouse starts from having hidden dating profiles at dating sites. No chances for a cheating spouse!
So, that Joe or Obrey might happen to be Lana and Patrick. Of course, this time he might be picking the ring for you or she might be preparing a surprise. But if it happens periodically — ring alarm bells!
officegoodlucks.com/order/43/671-como-buscar-personas.php
How to Catch a Cheater: 10 Ways to Spy on a Cheating Spouse
Perfect source backed with relationships science and tech experts. Thanks for powerful practicable solution. Perfect for romantic partners! Effective tips. Test-drive this awesome monitoring tool for all devices Reveal the truth. Track your partners from anywhere! Buy Now. Fancy checking your partner? How to tell if your boyfriend or girlfriend is cheating?
They carry out their phone all the time, text constantly trying to hide something: — Texting overdose might be suspicious. You get caller identity, call duration, call number, and whatnot. Spyic has a dedicated social media monitor for each of the social media platform that the person could use. You can track all of their Snapchat chat, Facebook chat, Whatsapp chat, and so much more. This is a very helpful feature to catch a cheater.
If your spouse said they are going to the office but are in a whole other part of town, you know for sure they are cheating.
You think they're cheating. But how can you know for sure?
Therefore, you can use the location monitor to check their location at any time. It also keeps track of their recent locations as well. Not only that, you can also set a geofence too. When the person crosses the location boundaries that you have set, you get an alert. Keylogger records everything that the user has typed. This includes messages, browser searches, usernames, and passwords. You can see everything through this feature. These are only a few of the features that Spyic offers.
To know more, check free Spyic demo here. You can even try out these features in the demo. Now coming on to the most important part, how to use Spyic to catch a cheater? Well, it depends on whether the cheater is using an Android phone or an iPhone. There are so many ways with which you can catch a cheater if they are using an Android phone.
Follow this simple guide and in minutes you will know if the spouse has been cheating or if he is going to cheat in the future. If your spouse uses Android, you have to download the Spyic app on their phone. They will never find it in their app list. Only you can open it with a secret code. Further, the App size is less than 2MB. Therefore, there is nothing that will make them suspicious. If your spouse uses an iPhone or iPad , there is no app installation required on the target phone. You can spy on it even without touching it.
For iPhone, Spyic utilizes the iCloud backup feature. It extracts all relevant data from the cloud backup of the user. All you will need is the iCloud username and password of your spouse. Once you have that, you are ready to begin. I even have another app for you that will be just as easy and effective to use. You can know every bit of their life, from the people they are involved with to what they search on the internet. You can simply spy on the phone and find out all the past and current cheating activities.
Cocospy has so many features that the cheater will find it hard to evade. Even if the cheater deletes messages from their phone, Cocospy will still have them. Facebook is the most common method used by people to cheat. It is not uncommon that your spouse might be talking to someone on Facebook. Cocospy makes it very easy to catch someone who is cheating on Facebook. It has an inbuilt Facebook Spy module. This Facebook Spy lets you access all the chats of the user.
You will also know about the people they are talking to. These features might not create a clear picture to you just on reading. If your spouse is getting many calls from a particular number, and they shrug it off as nothing important, it might be that they are lying. In this case, you can use the internet to know the actual identity of the person. Reverse phone lookup will let you know who the person is and might even tell about their social media information. This can be done through TruePeopleSearch. In case you are lucky, you might know the answer. Spydialer is one such method that can help you catch a cheater for free.
It can tell you about the identity of a person with the help of their phone number, address, name, or email. However, it is more like a search engine. The features are limited to revealing basic identity only. There is another way through which you can learn the identity of a caller who had been calling your spouse. It is by using Zabasearch. Zabasearch can tell about the identity of a person through reverse phone lookup.
How to Catch a Cheater: 10 Ways to Spy on a Cheating Spouse | ilaralunaxij.tk
Additionally, it can also give you details about their social media accounts, criminal history, etc. Again, its features are limited since it is a free tool. However, you can use it if price is your primary focus. When most people suspect their spouse is cheating, it is often not the case.
However, when the significant other begins to cheat, they always start giving up signs unknowingly. Based on these signs, you can know if it is okay to suspect someone of cheating. Understanding these signs is vital and important. If your spouse is showing such behaviour, you might need to get worried. Often, people tend to disguise their cheating behaviour through work. If your hubby or wife has lately been going to the office at odd hours, it can be fishy.
Husband Realized His Wife Is Cheating Rather Than Revenge Just Left a Note for Him
While this does not suggest they were necessarily cheating, it is a good idea to make it sure. You will know if your spouse is even going to the office or not. Further, other features of Spyic like message monitor will let you know if your spouse is having an affair at the office.
If your spouse is cheating on you, they might begin to show ignorance to you.
They might make you feel like they are uninterested in the relationship. At these times, if people are cheating, they are often busy on their phone talking to the other person. You should check out what they are doing on the phone by using a phone monitor. Also, if you are using Spyic, you should also check out their browser history as well. It might leave clues to you. If someone is cheating, their phone is the best way to know. People who cheat often start making and receiving calls at odd hours. They might tell you that it is just from the office or perhaps those insurance people are bothering them again.
Therefore, use a call monitor to know the caller identity. Further, if the call monitor comes with a call recorder like Spyic , you can even know what they are talking on the phone for so long. With everyone talking to everyone on social media, cheating through Facebook, Snapchat, and other means is becoming quite common. You can do this in a variety of ways. It can show you all the chats and pictures on various social media channels of the user.
This is true even if the channel is private. Credit card statements can reveal a lot about someone. If they are cheating, you will see the expenditures on food, shopping, hotel rooms, etc. However, if you are monitoring their browser history, you might also find out if they have a separate credit card as well through the shopping history. Based on all this, now you know why I suggested that you get Spyic. It is essentially the best way to catch a cheater. It keeps track of everything.
whatsapp spyware for blackberry.
windows mobile 7 spy software!
iPhone Repairman Finds Surprise Note From Husband While Fixing His Phone!
richmond bc cheating spouse.
Catch a Cheating Spouse - Truth About Deception.
spy app for iphone 6s without jailbreaking.
spy vs spy android download.
I would suggest that you clear your doubts right away. Click here to get Spyic now. What Spyic does? Here is why: It works without them knowing: When you are using Spyic to monitor your spouse, your spouse is never going to find out that they are being monitored.
How to catch a cheating husband note
How to catch a cheating husband note
How to catch a cheating husband note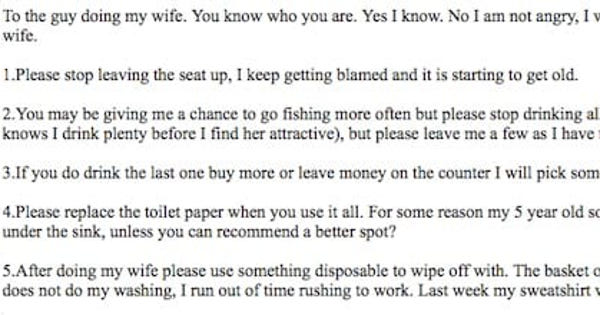 How to catch a cheating husband note
How to catch a cheating husband note
How to catch a cheating husband note
---
Related how to catch a cheating husband note
---
---
Copyright 2019 - All Right Reserved
---